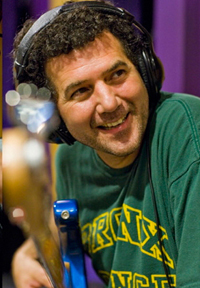 A native New Yorker, Leo Traversa has distinguished himself as a musician and educator. His extensive knowledge of a variety of musical genres and cultures and his mastery of their playing techniques makes him one of the most versatile and proficient bassists on the scene today. Press reviews have described him as "perfect in technique and brilliant in providing instrumental background", "master of the 5-string bass", and "without question, one of the top bassists".
He has performed and recorded with a wide range of internationally known artists including Angelique Kidjo, Michael Brecker, Larry Harlow, David Krakauer, Don Byron, John Pizzarelli, Larry Goldings, Andy Narrell, Birdland Big Band under the direction of Tommy Igoe, Ruben Blades, Donny Mcaslin, Helio Alvez, Janis Seigel, Renaissance, John Di Martino, Tania Maria, Eliane Elias, Randy Brecker, Ben E. King, Astrud Gilberto, Joyce, Cesar Camargo Mariano, Claudio Roditi, Dave Valentin, Toninho Horta, Gerry Mulligan, The New York Voices, Oscar Hernandez, Phil Woods, Dianne Reeves, Milton Nascimento, Fantcha, Bebel Gilberto, The Caribbean Jazz Project, Herbie Mann, Kenia, Shoko Aida, Aster Aweke, Louie Bellson, Steve Kimock, Dave Kikoski, Gato Barbieri, Leslie Uggams, Duduka Da Fonseca and Maucha Adnet. His most recent highlights include touring India with John DiMartino's Quartet of the Americas, performances with David Krakauer's Ancestral Groove, Janis Seigel and the Requinte Trio at the Blue Note, The Birdland Big Band, Tours with 70s rock legends Renaissance, the Bobby Sanabria Big Band, KJ Denhert and Giada Valenti. Recent releases include Janis Seigel, John DiMartino, Nanny Assis "Requinte Trio", Erika Matsuo "Nostalgia", Kim Nazarian "Some Morning", Chris Washburne and SYOTOS "Low Ridin'"Bobby Sanabria Big Bnad "Multiverse" Barry Danielian "Metaphorically Speaking" and Sara Milanovich "Daisycutter".
A graduate of The Berklee College of Music in Boston, Leo is well known as a clinician and instructor. He is a Music Associate at Columbia University, teaching private lessons and ensembles, and is a member of their Leadership Jazz program. He is also a long-time faculty member at the Drummers Collective in New York City and along with John Patitucci is a founding and current faculty member of the Bass Collective, for which he wrote the curriculums for African Pop, Caribbean and Odd Meter Fusion classes. He has authored two instructional books for Carl Fischer Publications entitled, Afro Caribbean and Brazilian Rhythms for Bass, and Fusion: A Study in Contemporary Music for the Bass, and has completed text for a third independent book, Five Concepts in World Rhythms, on the subject of world music and the various skills needed to play all African influenced music including African, Caribbean, Latin and Brazilian styles.
As a Teaching Artist with Carnegie Hall's Musical Connections Program, and a member of SYOTOS, Leo takes part in community outreach events, concerts and songwriting workshops at senior centers, high schools, juvenile homes, and prisons. These events have been among the most rewarding of his professional life.
Leo has performed in major concert halls, clubs, and jazz festivals throughout the world including Montreaux, North Sea, JVC, Lugano, Monterey, Montreal and Heineken Jazz Festivals; the Blue Note Clubs in New York, Japan and Jakarta; Dizzy's Coca Cola, and Avery Fisher Hall, Carnegie Hall, Lincoln Center, the Greek Theatre, the Great American Music Hall.
His television credits include the Today Show, NBC News, New York Prime, Jazz Brasil, the Good Day Show, CNBC, Estrenas y Estrellas and many other programs in Barcelona, Chicago, Lausanne, Mexico City, Montreal and Santiago. He has appeared in the Jonathan Demme film Married to the Mob and in Paul Auster's Lulu on the Bridge and in the Broadway productions of Oh, Calcutta! and Beehive.
 In 2012, he was honored to be nominated among luminaries of the jazz world in the Downbeat Readers Poll in the electric bass category.
Print this bio:  Bio.Leo4.11.16