On Saturday, August 4th, my old friend and colleague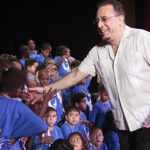 Bobby Sanabria was honored in the Bronx. For those who may not know him, Bobby has been a long time advocate for Jazz and Afro Caribbean music and the legacy of Puerto Ricans and their contribution to music in New York City. In addition to being a great musician with extensive credits and a Grammy award nominated band leader, he is also known for being an educator not only in universities but in classrooms where he exposes young students to the history and sounds of Jazz and Latin music. This only begins to describe him, but suffice it to say, he is more than worthy of the honors bestowed upon him by his hometown, the Bronx, N.Y.  It was great to be there to play with him on this special day.
Saturday was also a special day because one of the attendees at the event was Supreme Court Justice and Bronx native Sonia Sotomayor who was there to celebrate The Bronx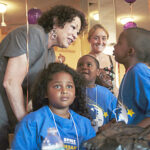 Children's Museum's third annual Dream Big initiative. She has been a strong supporter of the Bronx Children's Museum and its many programs for years. The BCM was present at the event and the kids prepared dance routines to perform with Bobby's big band. It was a thrill for me to meet Justice Sotomayor. She couldn't have been more gracious, approachable and sincere in her desire to help out this important cause and give back to her community. Very impressive.
_____________________________________________________________________________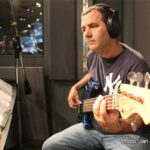 Review of Bobby's Grammy nominated CD "MULTIVERSE"    The rhythmic drive on this recording is life-affirming and, when you add the rock-solid bass of Leo Traversa, sitting still is not an option. "Multiverse" hits the streets on August 14 – do not pass it by.
– Richard B. Kamins, Step Tempest
______________________________________________________________________________