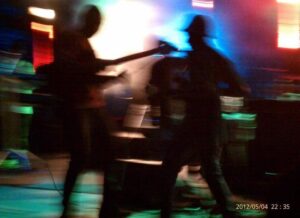 These past months, I've been back at work with the people of Carnegie Hall's Weill Program, performing community service which took us (Chris Washburne and the SYOTOS band) into a juvenile detention center in Brooklyn for another songwriting workshop. Although it was a completely different experience with a completely new set of challenges, once again, the resulting songs were pretty incredible, written by kids 12-16. We got to spend a good amount of time with these kids and it was as much a learning experience for us to live in their world and get to understand their situations as it was for them to learn about songwriting, collaboration and working with live musicians. It's amazing what's inside people who have no experience writing songs or music, once you can draw it out of them. I'd really like to credit Chris Washburne and Claudette Sierra for doing a great job under difficult circumstances.

Our director at the Weill Program is a wonderful man named Manuel, who happens to be from Zimbabwe and thanks to him, we just spent a week in Harare, Zimbabwe doing some of the same things we do in NYC, various community gigs and also playing the renown HIFA Festival on a Saturday night. What a great experience. Those of you who know me know about my love for Africa and African music so being able spend a week in Harare was a great opportunity and I would like to thank Manuel and everyone at the HIFA Festival.

Click on logo for Festival website
It took us three flights and 28 hours to get from NYC to our base in Harare at the hotel where most of the festival performers from all over the world were staying. The first face I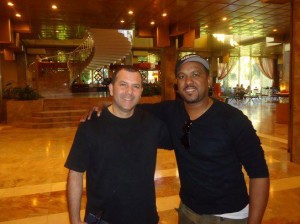 saw in the lobby was Zerui Depina, a great musician from Cape Verde via Rhode Island along with my other Cape Verdean friends who were there playing with Maria de Barros. Tired as we may have been from our travels, we managed to make it to the festival ground the night of our arrival for some dinner and a look at the site.
Wednesday, we did a songwriting workshop with three local women at the Alliance Française in Harare and once again, got some really great songs out of it. That night, we were back for dinner on the festival grounds and I met Edgar, who makes beautiful mbiras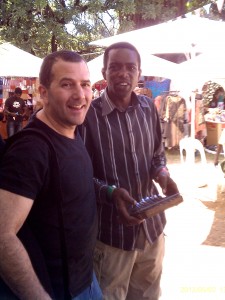 and had a stand on the grounds that was a meeting place for locals to come sing and play Zimbabwean music on Edgar's handmade instruments. I wound up spending time with Edgar during the week and we developed a good friendship. Across from Edgar's stand was the Poet's Café, which would become my regular spot for dinner where Zubaida cooked up the best traditional Zimbabwean food at the festival and was a great host for me and later, the rest of the guys. It was nice to see her and her partner at the show Saturday night. Thank you Zubaida, for your delicious food and warm welcome. My musical treat for the evening was seeing Maria de Barros and her great band in a really nice tent venue. She's a wonderful singer and performer and I had a great time enjoying their show.
Thursday brought me to one of the most memorable experiences of my career, going to the prison in Harare to perform for the inmates. We were joined by a great young band from Amsterdam named The Handsome Poets, who we became big fans of. The prison was very old and not too far from the center of Harare. We entered the main yard where about 500 prisoners were sitting on the ground waiting for us. Most prisoners were dressed in old, long woolen shirts with broad red and whites stripes and some were wearing faded white. Our gear was set up along the back wall next to a few picnic tables for us, and about 20-30 chairs for the guards, prison and HIFA staff.
There were three groups of prisoners dressed differently in nicer gym clothes. They were groups who were to perform for us, singing, dancing and playing percussion and they were all well rehearsed and sang beautifully. It was one of those experiences in music when even though you don't understand the language being sung, you know it is an important and meaningful message being delivered from the heart. One of the performing groups of about eight guys had OBAMA written in big white letters down one side of their black gym pants. I think I can speak for the group when I say we were on the verge of tears listening to these guys. When it came time for us to play, the inmates were engaged and incredibly well behaved.
Claudette was incredible, heading right out into the field to sing and dance for the appreciative crowd. At one point, two guys were doing a choreography they had prepared and she joined them, to the delight of everyone. I was impressed by how interactive everyone was and nobody felt in any danger. None of the 20 -30 guards had guns at all and there was no watchtower like you see in the movies. It reminded me of the prison in the film "Papillon." One thing that we did have that you see in movies was the obligatory group of prison drag queens, who were part of a comedy sketch that they performed at the end. We also had a streaker that caused a brief commotion near the end. That was momentarily unsettling because he was tackled by the other inmates, the only hint of violence all day.
The Handsome Poets followed us and I think they were a little unsure as to how they, a Dutch rock band, would be received by this particular crowd but they sounded great and the inmates loved them and showed it by singing along heartily and dancing. They were a huge hit and we loved them too, so much so that we all made sure to see their set that night on the main stage.
As previously expressed in my last (and first ever) post, the work with Carnegie Hall in the communities of NYC has been extremely rewarding and I'm glad that we could continue in that spirit in Zimbabwe.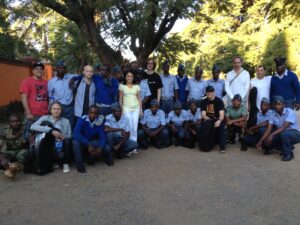 Friday in Harare brought us to our rehearsal with the Zimbabwean Air Force Brass Band for our performance on Saturday. Lots of brass, a couple of saxes and clarinets and a 6 piece percussion section featuring a dynamic player of their version of maracas made from local gourds. Well, we were all pleasantly surprised when they didn't play any military marches or brass band repertoire but instead, broke into horn arrangements of traditional Zimbabwean tunes, including soukous like beats and some cool 6/8. It was great! We learned one of their tunes with the two tuba players showing me the bass parts and we taught them "Manteca". Chris also showed them the symbols for sound painting and we played an improvised piece. Their conductor was fascinated and recorded all the hand symbols and used them later in the rehearsal and on the gig. Who knows, we may have started the free jazz, avant-garde movement in Zimbabwe through their military band …
As all this is happening during the day, we're checking out bands, hanging and eating at the festival every night. The best and cheapest food in the area was there and I was returning, now with band-mates, to Zubaidah's Poet's Cafe every night. Friday night, she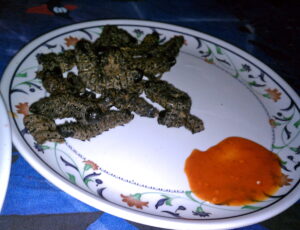 broke out the mopane worms (or, as we know them, big black caterpillars) and Hector Martignon, Vince Cherico and I ate some. Not bad. Not exactly escargot but not bad, with the right hot sauce, of course. With my body slipping back into NY time and a power outage at the hotel the night before, I had been up all night with very little sleep and was ready for an early return to my room … until Vince told me about Makoomba. He had gotten the word that this was a native band that should be seen and after getting encouragement from our friend Edgar and another new friend we met at the cafe, it was easy for me to decide to stay till their 10PM set instead of sleep. It was the best move I made all week.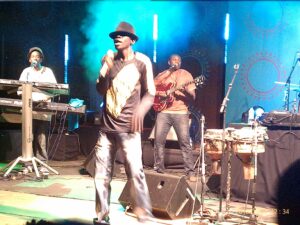 Makoomba is an incredible band of young Zimbabweans who have a sophisticated and hard grooving sound. They have some West African influences and a powerful lead singer and they put on a great show, with all band members being great dancers too. In the festival hotel shuttle, Vince and I met some native revelers, Faza, her husband and a couple of friends who turned out to have experience living in the Bronx and Staten Island. They were really friendly and interesting people who we would see later on for additional reveling.
Saturday was our real workday. Up at 7 for an 8:30AM sound check on the main stage then off to the center of town for our gig with the brass band. Little did we know more great surprises would be in store. When we arrived, there was a group doing a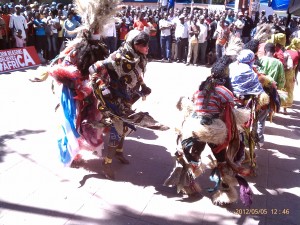 performance in front of the stage in the square. Wearing elaborate costumes and masks, dancers performed energetic and seductive dances to 5 percussionists and a group of 8 or so women singing. Amazing! Some of the dancers were wearing masks without eyeholes and were led by the sound of a shaker tapped on the floor and played close to them.
It seems to me that dancing is such a natural way of life for Zimbabweans and every musician and performer of any type that I saw was also a great dancer.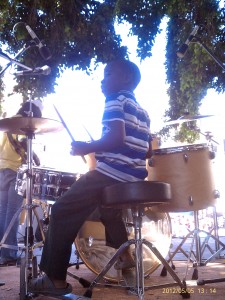 The dance performance was followed by our opening act; a blind older man on electric guitar, a young bassist and an 8 year old on drums who played so powerfully and joyously that he seemed like an old soul inside a kid's body. He also seemed to be the bandleader! It was amazing and we all looked at each other like "what's next? "
I made it back to the Poet's Cafe for my last dinner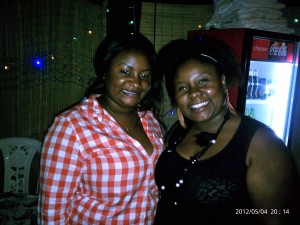 and to say goodbye to the ladies who took such good care of us. This time, they shared a traditional beer like brew with us.
I also saw Edgar to buy one of his beautiful mbiras. Thank you Edgar.
The show with SYOTOS was fun and well received.  We played our set to a great crowd at 10PM, though we followed the great Sengalese artist Ismael Lo and they cleared the house after his show. After a couple of SYOTOS classics, we did more of a salsa dance set with Claudette Sierra providing her usual stellar vocals and high energy. It's always great having her in the band for her presence as much as her beautiful singing. Not many female singers in Latin music do what she can do.
The post gig hang started off innocently enough, at the performer's green room bar, a large tent that was an eating and drinking refuge for musicians and other performers as well as festival people. Vince and I decided to leave at one point to go to Book Cafe, a well known live music place in Harare where Edgar said he was performing as part of a jam session. It was pretty cool although instead of experiencing Zimbabwean music, we experienced local musicians playing mostly rap, hip hop and rock, except for Edgar's song, which was more traditional. I can't say that I saw a bad musician in Harare. Everyone I saw was tight and together. It seems like music is just something that is a natural part of everyone in Zimbabwe as singing, dancing and playing music is like walking down the street. After over an hour at the club, we decided to see if the rest of the band was still at the green room bar …….. oh yes, they were. It was pretty packed that night since it was Saturday and like us, many were leaving on Sunday. I wish I could have stayed one more day to see Oliver Mtukudzi close the show. At one point around 2AM, Vince and Christian started to play percussion on my mbira box and an ice bucket. Minutes later, Ole has out his tenor and is blowing along, and everyone at the bar is loving it. Several minutes later, Chris, John and another alto player from another band have their horns out and it's on. The whole bar descended into our corner and a massive jam involving everyone in the bar ensued until they turned off the lights and kicked everyone out around 3:30AM. A fitting close to a great HIFA, one of the best festivals I've played in quite some time.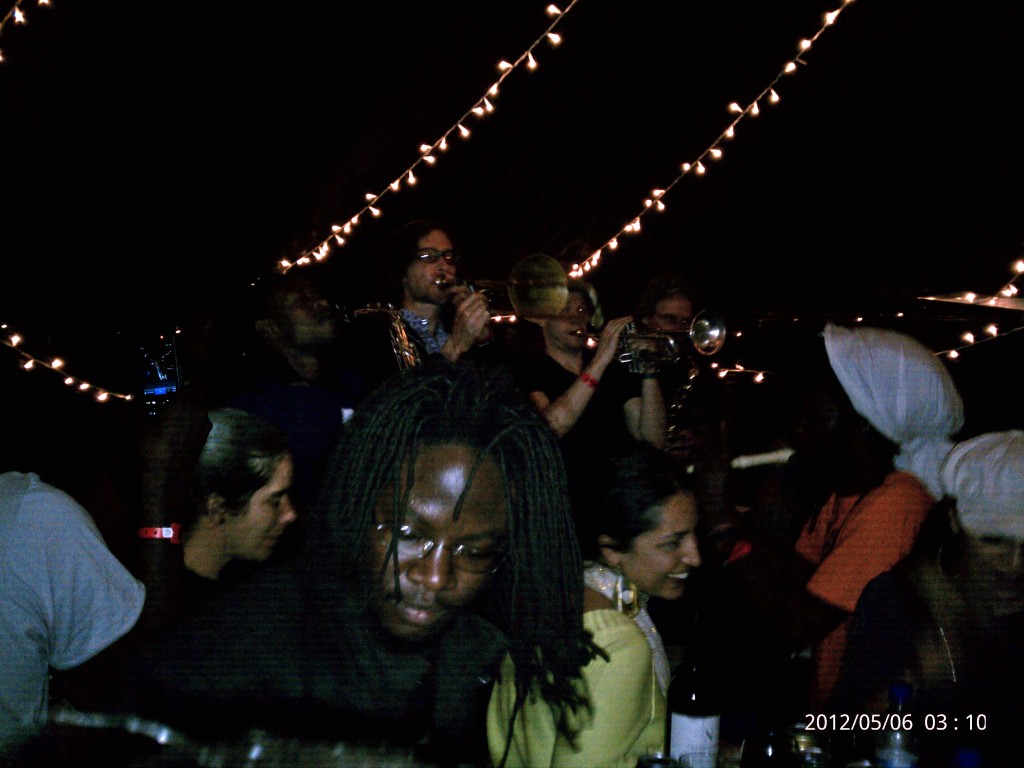 This trip was a great experience and I left Zimbabwe hoping to return one day soon. Everyone I met was friendly and kind and I felt welcome everywhere I went. The spirit of music is everywhere during HIFA and the local musicians and dancers I saw were beautiful. There are places that you go in the world where you can see that music, singing and dancing is simply a part of life that everyone participates in and not just a career or vocation. It's wonderful to see that. As with my previous trip to Senegal, being in Zimbabwe is a combination of joy and concern. Being in the cradle of civilization surrounded by the history, culture and music of Africa is a joy for me but as a human being, I cannot help but be concerned about the problems and difficulties facing a proud and dignified people.